5 Things to know for Monday: Salt & Straw makes a 'happy' place even more cheerful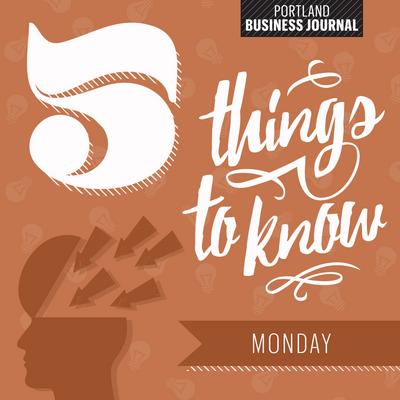 It's looking like a week full of good stuff for PBJ readers. Heck, it's always a week full of good stuff for ya'.
This week, though, you can get a lot more news for a pretty good price. More details on that, and four other Things, below. Have a great Monday.
Cleanup on aisle Paul
Paul Bunyan is about to get a facelift. And a body lift, for that matter.
"Built in 1959 for the Oregon Centennial, the statue had taken a beating at the hands of the Oregon elements over the years. Paint had flaked, plaster had crumbled and moss had moved in," the PBJ's Jon Bell writes.
"But a roughly $80,000 remake brought the iconic statue back to life — and landed it a DeMuro Award from Restore Oregon."
Jon has more on the awards the Portland nonprofit hands out every year to honor historic rehabilitation projects and compatible development. They are named after late Portland developer Art DeMuro, whose development projects included the White Stag Block.
The price is right
Hey, it's National Women's Business Week. To mark the occasion, American Express has unlocked all subscriber stories on our pretty outstanding web site.
They're involved
As the PBJ's Brandon Sawyer put it, "the highly anticipated U.S. mid-term election this November appears at first glance to be a snore-fest in Oregon."
That's because, other than the governor's race, no individual candidate elections are expected to be close. Nevertheless, $2.3 million rolled into congressional candidates coffers in the year ended in June.
Brandon took a look at the companies that employ the workers who've given the most to Oregon's Congressional candidates.
Holding court
Officials from Nike, the Trail Blazers and the city of Portland on Thursday had plenty to celebrate last week.
They began a three-year project that will result in new playing surfaces on basketball courts in 30 city parks. The project, as Matthew Kish writes, is funded by $750,000 from Nike and $300,000 from the Trail Blazers.
Salt & Straw's small world
Those visiting the Happiest Place on Earth can keep their endorphins firing by visiting a new Portland contribution to the iconic California destination.
Salt & Straw on Friday opened its first Orange County scoop shop in Anaheim's Downtown Disney District, near the entrance of Disneyland.
"It's a dream come true to open a Salt & Straw in a celebratory setting that welcomes guests from all over the world." said Salt & Straw co-founder Kim Malek in a release. "That spirit is at the heart of our company, and we're thrilled to serve our ice cream to this diverse audience of locals, families and travelers."
The number of L.A.-area Salt & Straws now outnumbers the Portland locales, by a count of 6-5. The chain counts 17 stores overall.
The move does, courtesy of Brandon, raise a scenario.
"The lines to get into Salt & Straw will probably be longer than the lines to get into Disneyland," he deadpanned.