AROUND TOWN: Cobb GOP announces winner in straw poll for commission chairman – MDJOnline.com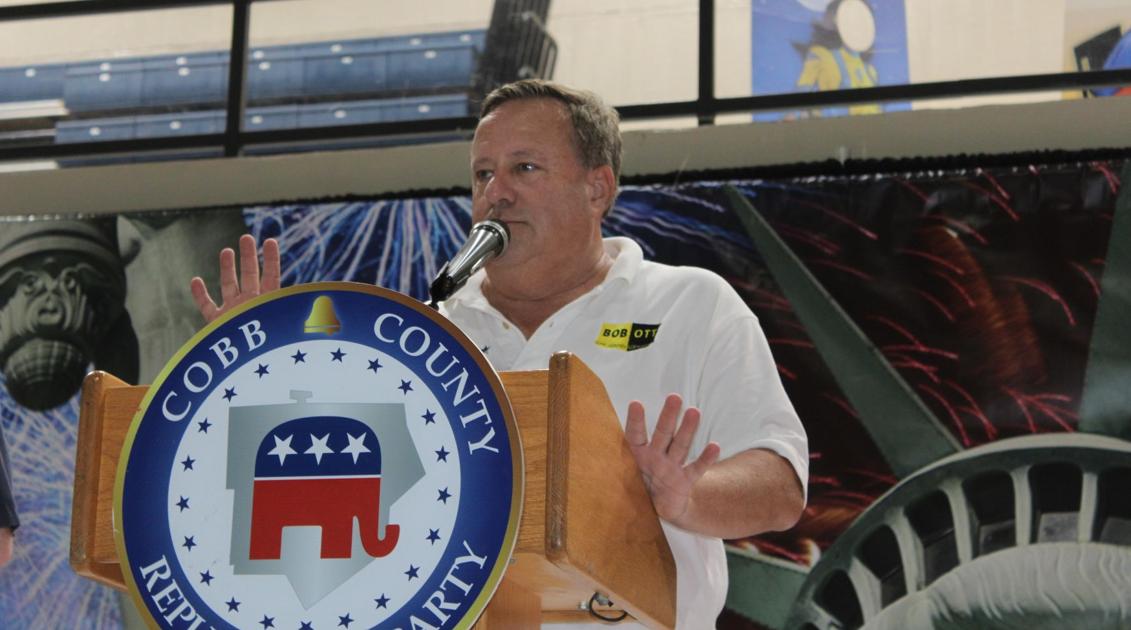 Commissioner Bob Ott for commission chairman? That's who attendees chose at the annual Cobb GOP Independence Day celebration held at the Civic Center on Thursday. There were only two names to select on the straw poll for that particular office: Ott and County Chairman Mike Boyce.
Participants also had the option of filling in a write-in candidate.
Ott won with 103 votes to Boyce's 79.
Around Town asked Ott what he thought about the results.
"Well, I think you've got to look at this event," Ott said. "This is probably some of the most conservative Republicans in the county, and typically the conservative Republicans don't like tax increases. They like limited spending, and I think that the chairman raised the millage last year, and I didn't vote for that. And I've been kind of an advocate for cutting spending, so I think that's really what you see."
Ott, who is up for reelection next year on the commission along with Boyce, has not announced what his future political plans will be. He says to look around the first of the year for an announcement.
Still, the room gave him a message. Will that factor into his decision?
"Everything factors into your decision," he said.
All elected officials and candidates running for office were given a chance to take the podium and deliver a stump speech, but when it came time for Boyce to deliver his, he was nowhere to be seen.
AT reached Boyce by phone after the event, asking if had heard the results of the poll. He said he had not.
"So Commissioner Ott's running now?" Boyce responded.
To be determined. But what was his reaction to losing to Ott?
"Well, four years ago if I let straw polls decide for me whether I was going to run for chairman or not, then I guess I wouldn't be chairman," Boyce said. "I don't respond to straw polls. I campaign and I campaign only."
Following the program, Shepherd shared his thoughts on why Ott won the straw poll over Boyce.
"I think the Republican base is unhappy with Mike Boyce right now," Shepherd said. "Just this week we're having an announcement of another tax increase. We thought last year when the tax increase went through that that was going to be it. That was what was needed to shore up Cobb County's finances. And that he needed to make a big increase in order to do that. And now the county is coming back and saying it wasn't enough. The Republican Party is the party of tax cuts, not the party of tax increases. That's one of our bedrock principles. And I think with the announcement this week that just has angered a lot of the Republican base."
Shepherd previously said a third name would be on the poll for that question, that of Louie Hunter, a former commissioner who serves as director of legislative and governmental affairs for Cobb Sheriff Neil Warren. Hunter said he contacted Shepherd before the poll was put out to say he had decided not to run.
"It's not my time to run," Hunter said. "I feel like I can do more good work working now with the sheriff's office without the time commitment that would take me away from my grandchildren, who, if you follow me on Facebook, you know that's about all I care about these days. I'm enjoying what I'm doing. I think we can be effective with the Legislature. And Sheriff Warren is a good man and I hope to see him be reelected."
The other only candidate to have announced for commission chairman at this point is Commissioner Lisa Cupid, a Democrat. State Rep. David Wilkerson, D-Powder Springs, chairman of the Cobb Legislative Delegation, said he was unsurprised by the straw poll results.
"The Cobb GOP is probably a little more conservative than the average Cobb Republican voter," Wilkerson said. "Commissioner Ott would have to make the tough decision to give up his seat to run in an extremely tough countywide election. He would face a primary and general (election)."
We'll see what Ott decides in January.