Canada's Green Party Caught Using Photoshop to Add Reusable Cup and Metal Straw to Leader's Photo – Newsweek
The Green Party of Canada has admitted they used an image on their website showing their leader Elizabeth May drinking out of a reusable cup with a metal straw that had been photoshopped.
The party said the straw was added onto the original image, which is believed to have been taken earlier this year. The original photo did show May holding a reusable cup, but that was also altered to include the party logo on it.
While the doctored image appeared on the party's website, the original photo—albeit cropped—featured elsewhere on sites such as iPolitics, where you cannot see the cup or straw in May's hands.
"All I know is that the original was photoshopped to put in a cup that had the Green Party logo," party spokesperson Rosie Emery told the National Post.
Emery said she does not know why the straw was added to the photo, but it should not deflect from the fact that May "walks her talk" with regards to environmental issues.
She added she does not believe there are other images that the party has altered in such a way.
"I think photos are often touched up to make color nicer and design nicer, but I'm not aware that anybody's photoshopping for particular statements or anything like that," Emery said.
An image which is cropped so you cannot see May's hands at all still remains on the Green Party's website.
Gordon Pennycook, a professor of behavioral science at the University of Regina, told the National Post it is important in the age of "fake news" that political parties do not attempt to pass off false or misleading information online.
"If it was a campaign photo posted on the party's Facebook page? I would call that deceptive. Such a picture is ostensibly a genuine reflection of an event, unlike a political advertisement, or at least people would take it to be so," Pennycook said.
"Of course, keeping in mind that the deception is silly and unimportant in this case. It perhaps says something about politics that the potential negative optics of using a plastic straw is viewed as worse than the potential negative optics of photoshopping a straw which, in my view, is plainly worse."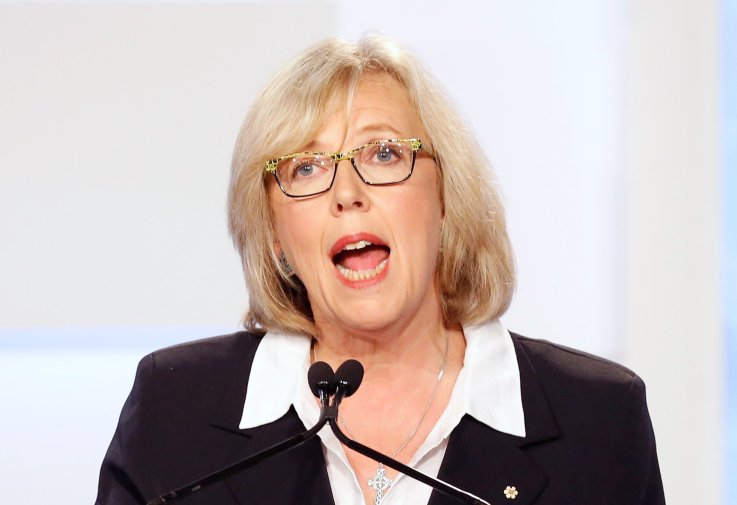 In June, May called for an immediate ban of all single-use plastics in Canada except for those which are medically necessary.
"Until governments take that essential step, producers of plastics should be responsible for recycling and assisting with recycling," May said in a statement.
"We've been grappling with recycling solutions for more than 30 years. It's time the producers were held accountable."