The 'last straw': Students create soybean straws as non-plastic alternative – Purdue Exponent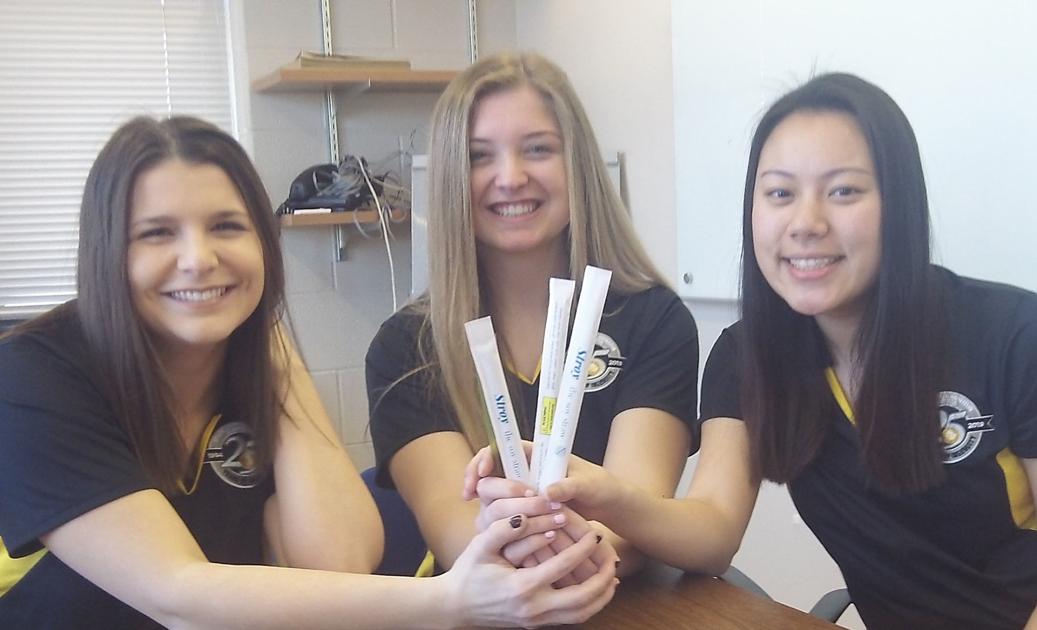 Ruth Zhong and Natalie Stephenson were on their way home from the library last August when they walked past a garbage can overflowing with plastic straws and cups.
At the time, the pair had been interested in entering a competition hosted by the Indiana Soybean Alliance in which students were encouraged to develop original applications for soybeans to address a market demand. It was the sight of the plastic straws that sparked the idea of developing a biodegradable soy straw.
"(Plastic waste) is a huge topic right now and plastic straws are starting to get banned in a lot of places, so we thought it was the perfect time to penetrate that market," Stephenson said.
Stephenson and Zhong, seniors in the Krannert School of Management and College of Engineering, respectively, didn't have a background in biology or food science. After contacting faculty in the food science department for guidance, the pair met graduate student Morgan Malm, who provided much of the initial knowledge the team needed about plant materials processing. The three formed Team Stroy in October and developed a disposable soy straw for the Student Soybean Product Innovation Competition in late March, winning first place and a $20,000 check.
Plastic straws are still cheaper than their eco-friendly counterparts at about 0.5 cents per unit. However, Zhong said that soy straws, which run at about 5.5 cents per unit, will likely be comparable in price to paper straws (now the leading plastic straw alternative) after mass commercialization.
Soy straws may also outperform paper straws in durability and overall quality. Although the trio is still experimenting with creating a proper "feel" for the straws, soy straws retained their form and functionality for one hour in both hot coffee and water and for five hours in soda during preliminary testing — a significant competitive advantage over paper straws. Confectioner's glaze, also used on candy, is used to coat the straws to give them a more plastic-like texture.
Team Stroy's next hurdle will be finding a way to mass manufacture their straws, which are now handmade from soy solution. They hope to eventually replace the straws used in restaurants, coffee shops and bubble tea outlets.
"We would love to start a company and commercialize this product," Zhong said.
According to Stephenson, soy straws may also be a lucrative replacement for the paper straws now used on campus.
Purdue Dining and Catering made the switch in March from plastic to paper straws across all campus residential and retail outlets. Although some students viewed the switch favorably, paper straws have drawn a number of complaints. Some paper-straw users on campus complain about the fragility and lack of structure to the straws.
"I know people who've used paper straws to drink smoothies, and they'll have to use two or three just to finish (their drink) because the straws get soggy and disintegrate," Zhong said.
Tyler Nguyen, a sophomore in the Krannert School of Management, agreed with the sentiment, saying that paper straws are not a practical plastic alternative in the long run.
"(Paper straws) suck," Nguyen said. "They break off once they get wet … and sometimes the paper gets stuck in your mouth."
According to Purdue Dining's student success manager Mary Jo Zeiser, discussions over a potential transition to more sustainable straw alternatives started nearly three years ago when the University became aware of just how much plastic waste was generated on campus. In a press release, Dining and Catering officials estimated that 650,000 plastic straws were used across dining and retail locations in 2018 alone.
Although Dining and Catering has contracted paper straw manufacturer Aardvark to supply all straws on campus into the indefinite future, Zeiser said that the Purdue would be open to exploring alternatives like soy straws.
"As long as the price point between the two is very similar and all the same qualities are present, I don't see why we wouldn't try (soy straws) at some point," Zeiser said.
Team Stroy does not yet have a concrete timeline for when their straws could enter the market, but the group plans to continue working on product development and research.
"We know what an impact our product can make," Stephenson said. "We really believe that soy straws can help alleviate the issue (of plastic waste)."